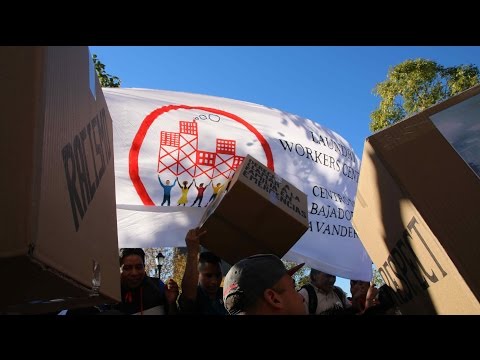 As a filmmaker, I feel the connection between my purchase of a camera at B and H Photo and Video in NYC and the people who work in the warehouse to get that package to me so quickly.  The time between their boxing the camera and my front door is so incredibly short these days.  I am painfully aware of the RETE of commerce in the world.  So this video speaks to that phenomenon.  Since the launch of this video, the workers won! They are now able to unionize.
B&H Warehouse Workers Protest on October 11th, 2015 with the support of Laundry Workers Center United, Jews for Racial and Economic Justice and Rabbi Ellen Lippmann.  Video by Lynne Sachs.
According to Democracy Now, "more than 100 warehouse workers have launched a campaign Sunday to unionize B&H Photo Video, the largest non-chain photo store in the United States. The workers are alleging widespread racial discrimination, wage theft and unsafe working conditions inside B&H's two Brooklyn warehouses. In one case, workers say they were locked inside one of the warehouses during a recent fire in an adjacent building."

See the map of this post from New York, New York, United States.